More than Meets the Eye
An Exhibition of the Art of Sarah Palmer
Melt Studio + Gallery in Picton
June 2023
Sarah Palmer's paintings, drawings and sketches are not for everybody. They are challenging. They feature grotesque characters with expressive eyes and exaggerated hands. The characters show strong emotions: sadness, anger, love. The characters are often pictured in difficult situations. A first glance at one of Sarah's works can leave you feeling uneasy or melancholic. But take a second look. There is beauty in the colours of her paintings, in the preciseness of her drawings and in the fluidity of her sketches. There is comfort in the order and balance of Sarah's art.
In the exhibition's signature piece, Dunce Cap, you see two characters poised to speak. Why is the seated person looking downward? Why is the standing person wearing a dunce cap? And what is she holding in her hand? What is the significance of the candle, fruit and flowers? There is a story here. Something more than meets the eye.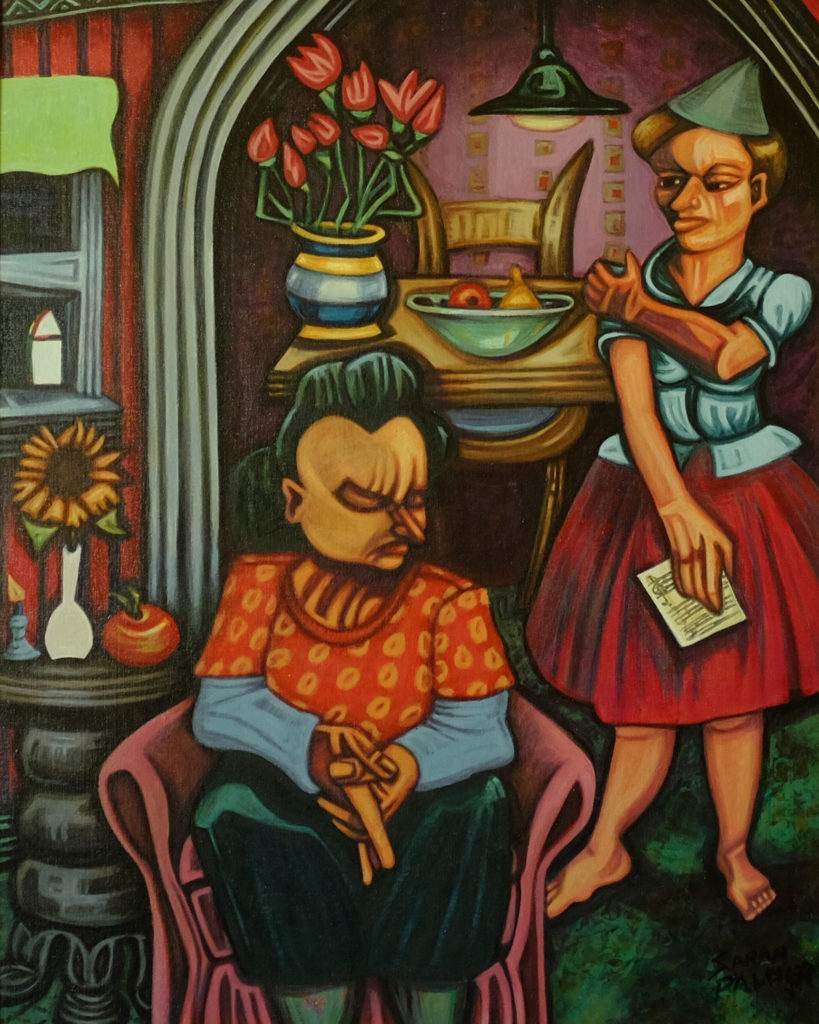 A Different Kind of Love
An Exhibition of the Art of Sarah Palmer
Quinte Arts Council Gallery in Belleville
September 2023
You can never be sure of what's happening in a Sarah Palmer painting. Take this show's signature piece titled Love Uncertainly. See two people gazing at each other and touching hands. Look at their eyes. Is that anger in the eyes of the person in pink? Is the person in blue ready to cry? Look at their hands. Is the person in pink ready to dance? Is the person in blue pushing away? Is this love?
Sarah paints and draws in the style of German Expressionism, a style that is dark and cynical. In German Expressionism the characters are grotesque and the situations uncomfortable. But Sarah's characters are sympathetic and there is balance, order and colour in her works. You can imagine a story of redemption. You can imagine the possibility of love. Perhaps not a traditional fairy tale love. Perhaps a different kind of love.